FAW Meetings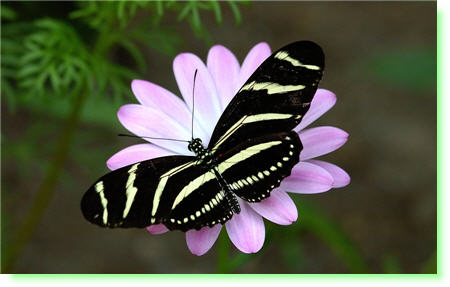 FAW is on Summer break. Meetings will resume September 2012 with new programs. Do you enjoy reading, writing, or supporting new writers whom are starting their career? Join Friends of American Writers for one of our excellent programs at the Fortnightly Club. Membership is an excellent price at only $40.00 . Download the membership application and send it in today.

Membership form (PDF file)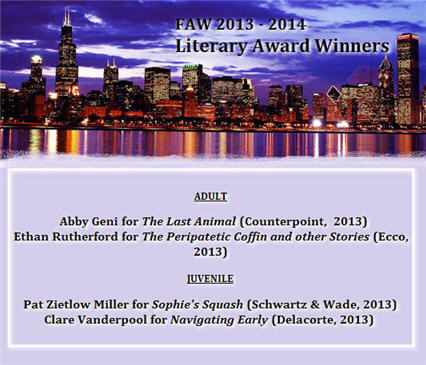 About the Awards
Friends of American Writers has been awarding prizes to new and promising authors from the Midwest since 1928. Winners have included: Carl Sandburg, William Maxwell, John Gardner, Toni Morrison, John Casey, Jane Smiley, Mona Simpson, Deborah Eisenberg, Larry Watson, and Richard Yates. The juvenile awards were initiated in 1960.
We will be starting our review of books for the 2014 - 2015 Literary Awards in September. Books are eligible for review based on the following criteria.


The author must be a resident (or previously have been a resident for approximately five years) of Arkansas, Illinois, Indiana, Iowa, Kansas, Michigan, Minnesota, Missouri, North Dakota, Nebraska, Ohio, South Dakota or Wisconsin; or the locale of the book must be in a region identified above.
The books can be fiction or non-fiction of literary quality (not poetry).
FAW is not considering Self-published and e-Books currently.
The book must be published in the calendar year prior to the awards year. Currently we are evaluating books published during the 2014 year.
The author must not have published more than three books under his/her own pen name, the third book being eligible for consideration. If an author has more than one book published during that year, we will consider all of them.
Books nominated for the award must be submitted to the FAW Awards Committees by December 10, 2014.

2013 - 2014 Literary Awards
See our Literary Awards page for additional information and listing of past award winners.
Are you looking for reading resources? Visit the The Dust Jacket for additional reading resources and bios of our literary winners.
Membership
FAW membership dues are currently forty ($45.00) dollars a year. For further information about membership in Friends of American Writers, please contact Membership Chairman
Sandy Weiss at membership@fawchicago.org
Membership form (PDF file)

FAW Officers
| | |
| --- | --- |
| President | Christine Bern |
| Vice President | |
| Secretary | Christine Spatara |
| Treasurer | Eileen McNulty |
Committee Chairmen
| | |
| --- | --- |
| Awards Luncheon Chair | Marion Sherlock |
| Bulletin Editor | Shirley Baugher |
| Foundation Fund Trustees | Corene Anderson |
| Literary Awards Chair | Tammie Bob & April Nauman |
| Juvenile Literary Awards Chair | Tanya Klasser |
| Luncheon - Social Chair | Carol Eshaghy |
| Membership | Sandy Weiss |
| Program Chair | Roberta Gates |
| Publicity - Historian | TBA |
| Revisions Chair | Edith Riley |
| Sustaining Clubs Chair | Angie Higginson |
| Yearbook - Awards Program | Pat Adelberg |
| Website Manager | Karen Baker |
Board meetings are held at the Fortnightly at 10:30 a.m. the mornings of the luncheons.
Sustaining Clubs
Flossmoor Book Club
Ogden Dunes Book Club
Renaissance Art Club
Women's Reading Club of Riverside
FAW History
Our mission shall be to study American literature, to encourage high standards and to promote literary ideals among American writers.
Friends of American Writers (FAW) was established in 1922 to study American literature, to encourage high standards, and to promote literary ideals among American writers. Members are invited to attend the luncheons, serve on committees that help run the organization or participate in the selection of the award-winning authors.
Over the years, after an annual lengthy screening process, FAW has honored Midwestern authors or those whose novels or non-fiction are set in the Midwest, by recognition and monetary awards. Those honored are invited to address the FAW membership at the Awards Luncheon.
Among the many emerging adult authors recognized over the years are Sara Paretsky, Jane Smiley, Toni Morrison, Harry Mark Petrakis and Carl Sandburg. Kevin Fenton and Chad Harbach won awards for the 2011 year.
In 1960, FAW introduced awards for Juvenile Literary authors. Clifford Hicks won the first award for "First Boy on the Moon". Recent winners include Brynne Barnes delightful picture book and Delia Ray's book for young readers.
Additionally, through the FAW Foundation Fund, students at local universities, recommended by their writing professors, are given recognition and cash awards to offset tuition.
Dorothy Gwynn has published a short booklet, "Friends of American Writers: Encouraging Writing and Thoughtful Reading", which describes in more detail the formation and proceedings of FAW.